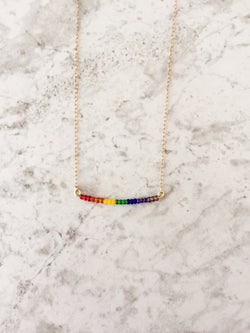 A tribe is as a cultural or social group comprised of individual members who share a common background, characteristic or trait they identify with, or can be associated with that group. A tribe is no longer based on ancient definitions. These handmade TribeStix™ give you a chance to proudly showcase your love for your culture, background, or preference in a subtle, yet fashionable way.
-Lightweight, thin curved bar beaded necklace. 
-18k gold layered thick over stainless steel chain and components
-glass seed beads
-Size: approximately 1.5" bar; 17" chain with 2" extension
Don't see your country listed? We'd love to know! Please send us a brief message using our "Contact Us" link above and let us know which TribeStix™ design you would like to see. We'll be sure to keep you in the loop if/when it becomes available.