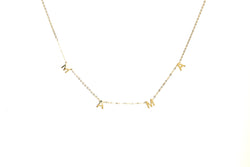 Lola Ade
MAMA Spaced Letter Necklace 14K
A special edition MAMA spaced-out capital letter necklace available in 14K solid gold letters on a gold chain. This item comes in a Lola Ade gift box. 
14K Solid Gold: 
Chain length: 16" + 2" Extension
Initial height: approximately 5mm
Want to send a gift, but you're not sure if it will arrive on time? Beautiful things take time to create! Print our "Made For You" card to let your special one know that their Lola Ade precious gift is on its way.
The 14K solid gold necklace is part of our Lola Ade Luxe Collection. Questions? Email us at Hello@LolaAde.com.